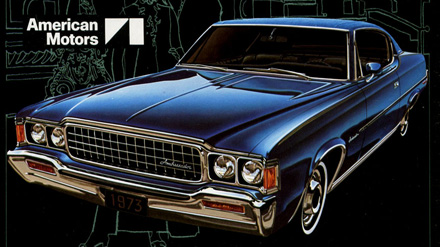 You are here : Mopar Directory : American Motors Corporation : Ambassador
Welcome to our AMC Ambassador Directory! A comprehensive list of Links to personal and business web sites devoted to American Motors Corporation AMC Ambassador vehicles. The Ambassador was manufactured and sold by American Motors Corporation (AMC) from 1957-1974.

AMC Ambassador – Wikipedia – The Ambassador is an automobile manufactured and marketed by American Motors Corporation (AMC) from 1957-1974 over eight generations, in two-and four-door sedan, two-door hardtop, station wagon and convertible body styles. It was full-size from 1957 to 1961 and 1967 to 1974, and mid-size from 1962 to 1966.

1968 American Motors Ambassador By Dustin Stouffer – 1968 American Motors Ambassador. The Badassador started life out as a 1968 Ambassador SST/DPL car green on green, with a 343 v8, 3 speed auto.

1972 AMC Ambassador SST By Wayne MacQuarrie – 1972 Ambassador SST. I have owned this car for five years and the restoration consisted of repainting and replacing the vinyl top.

Get Your American Motors Corporation Ambassador page or resource listed – We are always looking for good AMC Ambassador related sites and pages to add to the directory.

Already Listed? Visit the update your listing section to change a site or resource already in the directory.
Powered by the Mopar Enthusiast Network