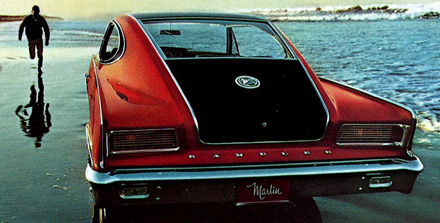 You are here : Mopar Directory : American Motors Corporation : Marlin
Welcome to our AMC Marlin Directory! A comprehensive list of links and resources to personal and business web sites devoted to American Motors Corporation (AMC) Marlin vehicles. Produced from 1965 through 1967, the Rambler Marlin was marketed as a personal luxury car.

Rambler Marlin – Wikipedia – The Rambler Marlin (later AMC Marlin) is a two-door fastback automobile produced in the United States by American Motors Corporation from 1965 to 1967. Its fastback roof design was previewed on the 1964 Rambler Tarpon show car, based on the compact Rambler American.

Get Your American Motors Corporation Marlin page or resource listed – We are always looking for good AMC Marlin related sites and pages to add to the directory.

Already Listed? Visit the update your listing section to change a site or resource already in the directory.
Powered by the Mopar Enthusiast Network