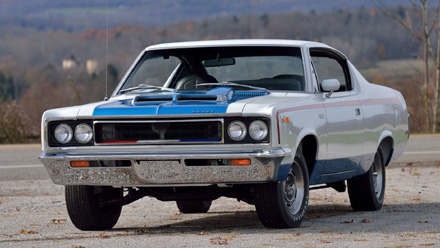 You are here : Mopar Directory : American Motors Corporation : Rebel
Welcome to our AMC Rebel Directory! A comprehensive list of links and resources to personal and business web sites devoted to American Motors Corporation (AMC) Rebel vehicles. A mid size car produced from 1967 through 1970.

AMC Rebel – Wikipedia – The AMC Rebel (known as the Rambler Rebel in 1967) is a midsized car produced by American Motors Corporation (AMC) from 1967 to 1970. It replaced the Rambler Classic. A high-performance, low-priced muscle car version was produced in 1970, the Machine, that is most recognized in its flamboyant white, red, and blue trim.

Get Your American Motors Corporation Rebel page or resource listed – We are always looking for good AMC Rebel related sites and pages to add to the directory.

Already Listed? Visit the update your listing section to change a site or resource already in the directory.
Powered by the Mopar Enthusiast Network