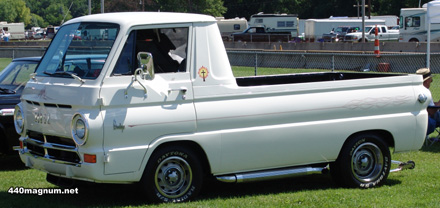 You are here : Mopar Directory : Dodge & Ram Trucks : A-100
Dodge A100 compact vans and trucks were manufactured and sold from 1964 to 1970. Sold under the brand of Dodge in the United States and Fargo in Canada. Built on a short 90 inch wheelbase, these vehicles used a "cab over" design. Both driver and passenger were placed above the front axle with the engine between the seats.
An 108 version was also available from 1967 to 1970, these featured a longer 108 inch wheelbase. Chrysler was not the only car company offering these type of vehicles. Other include the Chevrolet Van and Corvair Greenbrier, Ford Econoline and the Volkswagen Type 2.
Dodge also built the L-Series medium-duty Cabover Engine trucks from 1966 to 1971.  These featured a tilting forward-control cab based on the body of the A-100.
Dodge A100 – A108 Links and Resources:

1970 Fargo A-100 By Mike Krieger – It is powered by a 392 Hemi that is mounted 12 inches back from where the stock v-8 sat. It has a short-shaft 727 trans with a reversed manual valve body. It has a Dana 60 with 4:10 gears, posi and 35 spline Strange Axles. Featured October 2006 on the Mopars Of The Month site.

1969 Dodge A-100 Truck By Ted LeBaron, Jr – Powered by a 318 V-8 and automatic. Surf's Up. Featured June 2010 on the Mopars Of The Month site.

1969 Dodge A108 Van By Kurtis Orton – I have been working on my dodge one day a week for about 2 years. Shaved bumpers, frenched license plate, filled all body seems. custom dash and gauges, slightly built 318, 727 trans. Featured September 2013 on the Mopars Of The Month site.

1968 Dodge A100 Van By Darrin McCormick – Has some minor rust needs rear interior redone. Everything else about this van is great! The slant six runs great and the 3 on the tree shifts perfectly. Not sure is paint is original or not. Featured on the Mopars Of The Month site November 2008.

1968 Dodge A-100 Van By Terry Hozian – I found this old girl for sale by an older couple so i told my wife we need to save this one it has a slant 6 with 3 on the tree and runs like a top. Featured on the Mopars Of The Month September 2008.

 Get Your Dodge A100 truck or van page or resource listed – We are always looking for good Dodge A100 truck or van related sites and pages to add to the directory.

Already Listed? Visit the update your listing section to change a site or resource already in the directory.
Powered by the Mopar Enthusiast Network