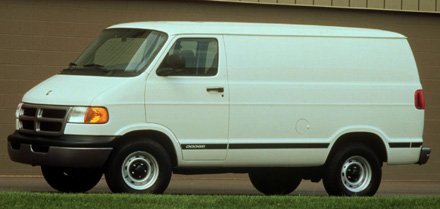 You are here : Mopar Directory : Dodge & Ram Trucks : Vans
Welcome to our Dodge van directory! A comprehensive list of links and resources to personal and business web sites devoted to Dodge vans. Have a Dodge van web site or related business site? Submit your Dodge van site for review and inclusion in 440magnum Mopar Enthusiast Directory.

1974 Dodge B100 By Kevin Carrasco – 1974 Dodge B100 1/2 Ton. 295's in the back, 225's in the front, sittin on 15″ CRAGAR SS, bigger cam, headers, holley 2 barrel carb, 3 speed. Featured on the Mopars Of The Month site June 2011.

1974 Dodge B200 By Jeff Buonasaro – Here is a rare one, 1974 Dodge B200 shorty window van, 71 340 with 727 auto, all original sheet metal with original dings and dents. Featured on the Mopars Of The Month site March 2011.

1978 Dodge Tradesman 100 Van By Michael Lysohirka – Black low rider with a 318 bored 10 over high rise aluminum eldbrock intake with edlbrock 4 barrel carb. mild cam stock 4 speed Hurst dual exhaust. Featured on the Mopars Of The Month site June 2005.

 Get Your Dodge van page or resource listed – We are always looking for good Dodge van related sites and pages to add to the directory.

Already Listed? Visit the update your listing section to change a site or resource already in the directory.
Powered by the Mopar Enthusiast Network